---
LC004W-WaveLED Ceiling Light
LC004W
LC004W-W (White)
LC004W-S (Matte Silver)

LC004 is a unique wave-shaped ceiling light with built-in switch and tiltable light angle. Using 6 quality super bright SMD LEDs from 1st-tier manufacturers, LC004 is able to remain cost-effective with enough light output and great durability. The completely sealed body also ensures great water and dust resistant capability.
LC004 is available in 2 different enclosure colors (White/Matte Silver). There are also two variant - one dimmable touch button version and one dual color light version available.
WaveLED Ceiling Light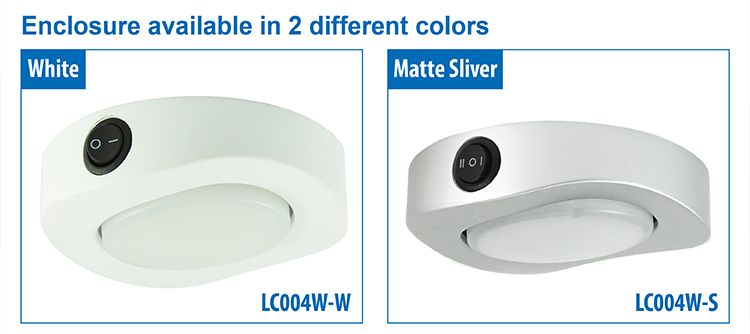 Features
Unique wave shape enclosure design
Easy-to-install bayonet latch design
Matte surface allows soft and smooth light output
Completely sealed – IP66
Built-in ON-OFF switch
Adjustable light angle
Constant-Current technology design ideal for marine lighting
DC 12V-24V dual voltage rating
2 different enclosure colors available
Specification
Lighting Source | SMD LED x 6 (120lm)
Color Temperature | 2900-3200K (Warm White)
Voltage Rating | 12-30V
Power Consumption | 1.5W
Certification


Movies

LC004 Marine WaveLED Ceiling Light

Related Products

---