How to choose the right fuse block for you
Choosing the right fuse block for your boat or caravan is crucial to ensure the safety of your electrical system. Fuse blocks protect your electrical system by interrupting the circuit when an electrical overload or short circuit occurs. Here are some important factors to consider when choosing the right fuse block for your boat or caravan:
---
1. Fuse Types: The first thing to determine is of course the type of fuse you want to use. Once you have determined the fuse you need, you will need fuse blocks for that specific fuse type. We will address fuse type selection in another article.
2. Amperage Rating: It is essential to choose a fuse block with an amperage rating that matches the maximum amperage of the device or system it is protecting. If the amperage rating of the fuse block is too low, it will blow frequently and interrupt the circuit unnecessarily. On the other hand, if the amperage rating is too high, it can lead to overheating and potential fires.
3. Number of Circuits: The number of circuits required in the fuse block will depend on the number of devices or systems you need to protect. If you have a lot of electrical equipment, you will need a fuse block with multiple circuits.
4. Size: The size of the fuse block is also a crucial factor to consider. You need to ensure that the size of the fuse block is appropriate for the location you want to install it. The fuse block should fit comfortably in the available space and be easily accessible.
5. Types of terminals: Normally there are two types of output terminals for connection to the loads – Screw terminals and 0.250" Quick (blade) terminals. Screw terminals would provide more secure and stable connection and thus can normally hold up to 30A per branch while quick terminals provide easy and quick connection for up to 20A per branch. For larger current fuse blocks (like MEGA, ANL or MIDI), bolt on terminals are selected to fit the fuse style).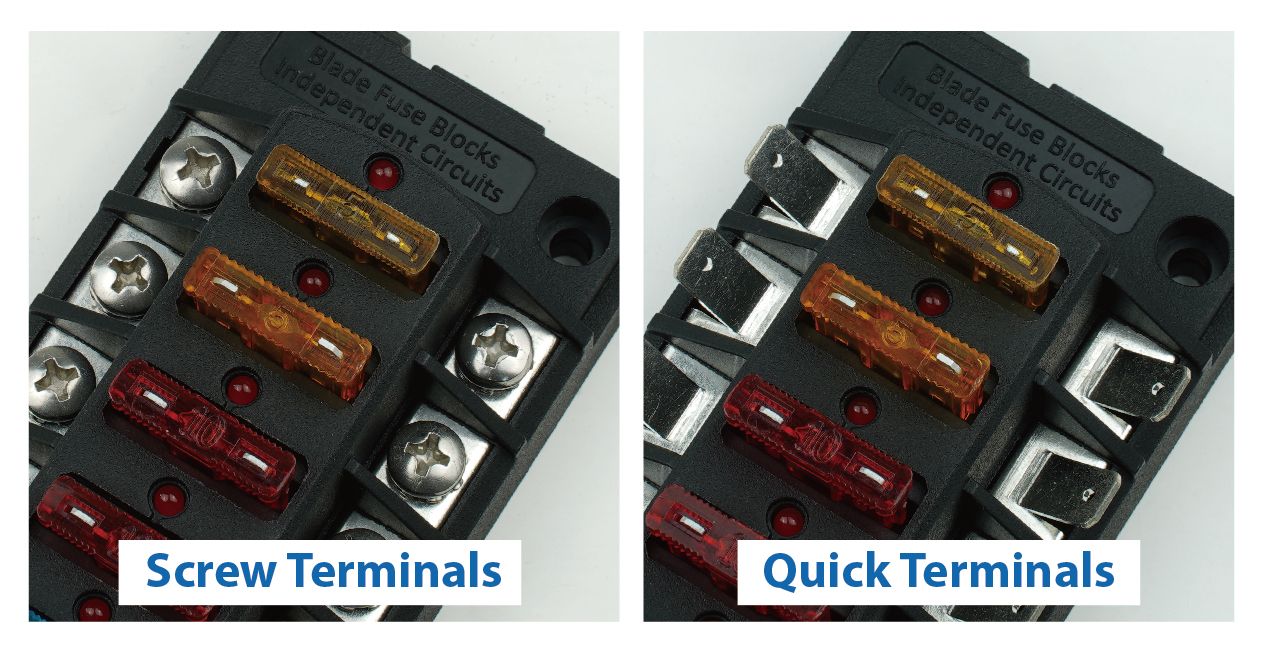 6. Negative Bus Bar: some fuse block integrate the negative bus bar collecting the negative feed from the devices it protects, so both the positive and negative of the devices are from the same fuse block.
7. Fuse Blown Indication LED: modern fuse blocks often come with fuse blown indication LED so when the one of the fuse is blown one can easily identify and replace the blown fuse.
8. Weather Resistance: If you plan to install the fuse block in an exposed location, it is essential to choose a weather-resistant fuse block. A waterproof fuse block is recommended for marine applications as it can withstand exposure to water and other harsh elements/p>
9. Brand Reputation: It is important to choose a fuse block from a reputable brand known for producing high-quality products. This ensures that the fuse block you choose is reliable and meets safety standards.
Related Products