Switch with Laser Etched Actuators
C-7 Switch Series
Laser Etched Contour C-7 Actuator
Water-proof switches specially designed for marine or outdoor applications
As an upgraded version of the C-6 switches, the C-7 switches withstand more severe environment and are IP67 rated. C-8 switches are also equipped more durable and power efficientED lamps and with dual voltage rating (DC 12V/24V). Furthermore, the C-7 switches come with a complete set of accessories including inter-changable actuators, replacing tool, mounting panels and label stickers.
Features
Premium feeling and backlight effects
YIS exclusive trendy actuator shape (Patented)
Laser etching technology allowing even very complicated patterns
Illuminates on both symbol and label (label illumination configurable to be always on or power indication)
100% customizable with low MoQ
Product Coding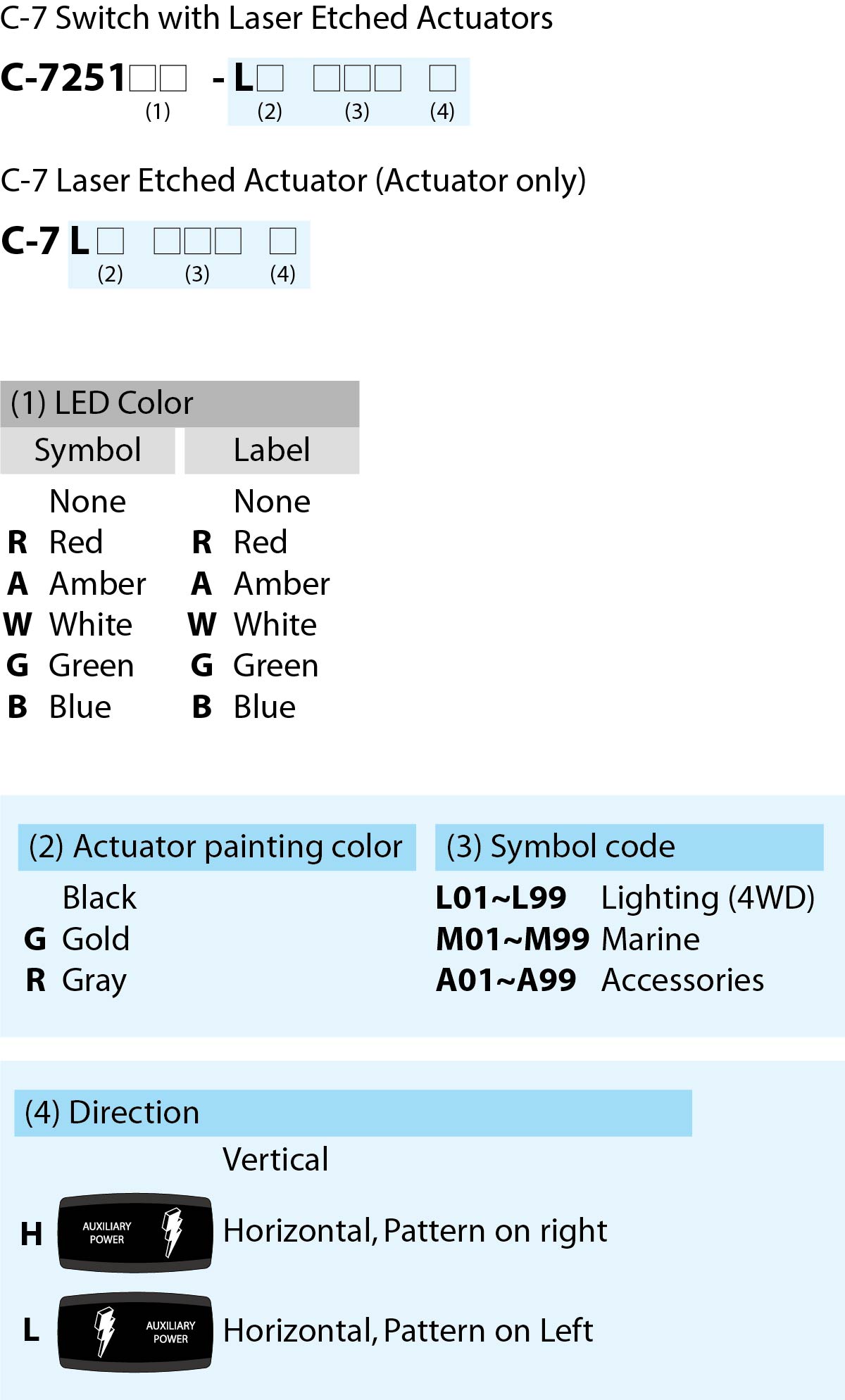 Related Products

C7L

The interchangable laser etched actuators for C-7 switches are available in different symbols...

Details

C7-PA-1 / C7-PA-2

Mounting Panels for C-7 Switches allows expansion of switch panels to as many switches as you wish.

Details
Full Catalog 2021
YIS Marine Electrical Parts Catalogue 2020-2021

Download
Have Any Question ?
Call Us :
886-6-3570966
Thank You.
More Details
Marine And Boat Switch with Laser Etched Actuators | Marine Accessories, Switch Panels, Fuses, Circuit Breakers, Switches, Lights Since 1992 | Yih Sean Enterprise Co., Ltd.
Based in Taiwan, China since 1992, Yih Sean Enterprise Co., Ltd. is a marine electrical and electronic products manufacturer. Main marine and boat products, including 12/24V accessories, switch panels, fuses, circuit breakers, switches and lights, which meet international safety standards.
YIS Marine is a professional manufacturer devoted to providing high quality marine electrical and electronics products. By designing and manufacturing in-house and having quality control at Taiwan headquarter, we are able to offer high quality marine products at competitive prices. with more than 20 years manufacturing experience for Marine Products, Switch Panel, Led Light, Switch, Plug, Socket, Terminal Block and Bus Bar in Taiwan.
YIS Marine has been offering customers high-quality marine and boat electrical products, both with advanced technology and 20 years of experience, YIS Marine ensures each customer's demands are met.
View our high-quality microalgae products
Switch Panel
,
Led Light
,
Switch
,
Plug
,
Socket
,
Bus Bar
,
switch panel
,
marine LED light
,
cigarette lighter sockets
,
fuse holder
,
bus bar
,
cigarette lighter plug
,
terminal stud
,
bilge pump switch
,
illuminated switch
,
membrane switch panel
,
toggle switch
,
rocker switch
,
marine grade
,
water-resistant
and feel free to
Contact Us
.